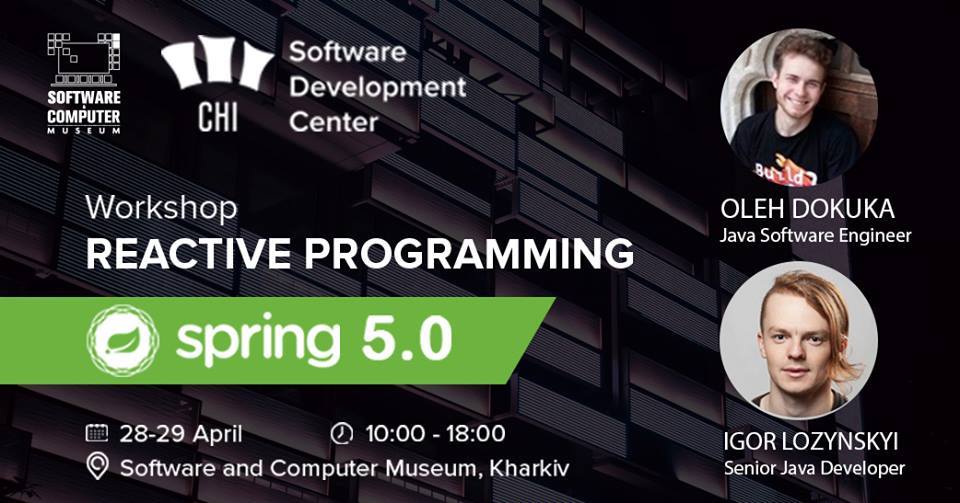 28 и 29 апреля пройдет двухдневный воркшоп по Reactive Programming with Spring 5.
Воркшоп будет состоять из 5 блоков, в каждом будет теория и практика.
Регистрация: https://goo.gl/HWwBMs
Для кого:
This 2-day workshop will be useful for Reactive Programming adopters, who have no previous experience.
During the workshop, you will learn the most popular libraries for Reactive Programming in Java (RxJava, Project Reactor) and have practical exercises.
Воркшоп проводят:
Igor Lozynskyi - Senior Java Developer @Zoomdata/Ciklum
Oleh Dokuka - Java Software Engineer @Backbase
Agenda:
I) Intro to Reactive System and Reactive Programming
II) Intro To RxJava
* Creational operators
* Transformation operators
* Terminal Operators
* Practice
III) Reactive Streams Spec
IV) Project Reactor 3 with Spring 5.0
* Intro to Reactive Types
* Advanced Operators
* Backpressure Operators
* Verification/Testing Tools
* Practice
V) Building Trading Systems
Адрес: Харьков, проспект Науки, 27Б (БЦ "Капиталист"), 2 этаж
Организатор: CHI Software
Стоимость участия: 500 грн (включает кофебрейки, обед 28 и 29 апреля)
Регистрация: https://goo.gl/HWwBMs
Количество участников ограничено: 20 человек.
Для участия в воркшопе необходим свой ноутбук.
На все вопросы ответит:
Юлия Северина
096 994 5112
skype: yulia-severina